By JohnMayo at 4:35 pm
Back Issue Spotlight #005: Solar: Alpha and Omega [64:35m]:
Play Now
|
Play in Popup
|
Download
John Mayo, Bob Bretall and Matt Kramer talk about Solar, Man of the Atom #0-11 from Valiant. Bob and John do a quick update on a few of the online retailers and they discuss a few recent back issue purchases.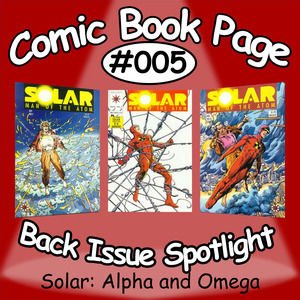 Time Codes:
0:00:00 Intro
0:00:36 Recent back issue purchases
0:04:03 Online retailer update
0:10:22 Solar, Man of the Atom #0-11
0:59:16 ComicBookDB
1:02:46 Hero Initiative promo
1:04:06 Wrap up
1:04:35 End of episode.
Links:
Discount Comic Book Service: http://www.DCBService.com
Lone Star Comics: http://www.mycomicshop.com
Mile High Comics: http://www.milehighcomics.com
Atomic Avenue: http://www.atomicavenue.com
Torpedo Comics: http://www.torpedocomics.com
ComicBookDB: http://www.comicbookdb.com
League of Comic Book Podcasts: http://www.comicbooknoise.com/league/
Comics Podcast Network: http://www.comicspodcast.com
Comics Podcast Network Hero Initiative fund drive: http://www.comicspodcasts.com/hero
Hero Initiative: http://www.heroinitiative.org/
Email us at TheGuys@ComicBookPage.com